Ceramic House Plate
Extreme geometry of the house with a view to Swiss alps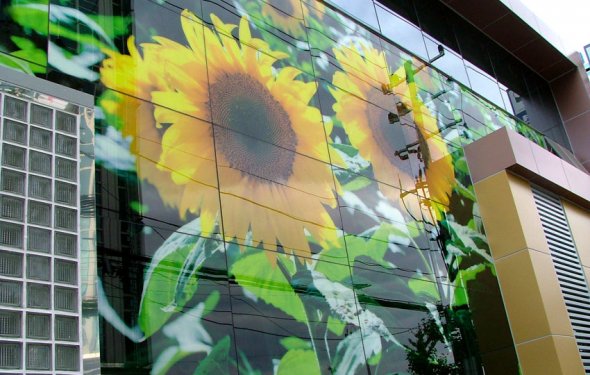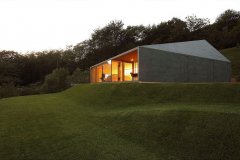 In Switzerland, JMA completed its next Montebar Villa project in 2015. This is a prefabricated wooden house of 200 square metres, located in a painting site with a view to the Swiss Alps. It consists of a living room, three bedrooms, an office, two bathrooms, laundry, technical room and a storage room. It's a magical place covered by sunlight, round year. There's a silence in here with a light reversal of cow bells to the pasture, the wind blows the sweet aromat of tree branches and grass.
The project was established under the local building code, which imposes on each house the presence of a dark-seated roof for better integration with the environment. On the basis of this limitation, the idea became a monolith, a rock in the landscape, making bloods and facades of one colour. Only the south side, facing the valley and providing a fascinating view through a glass wall, closing the living area and opening at a warm time of the year, creating a logic.
The house is located on the edge of the slope with vineyards growing only a few metres below and around the villa. It is built from ready thermal insulating wooden elements that are ideal for the local climate, and the whole structure has been assembled for several days. The roof and perimeter walls were similarly designed, with 22 centimetre thermal insulation and double venting to achieve high energy performance standards. The end face material covers ventilated facade with Ceramic plate and an invisible anchorage system.
Most of the design time was devoted to exploring several external face-to-face options in order to reach a suitable surface and to obtain a clear and simple form. Each line of the hull of the cafeteria with a dynamic drawing of three formats, and many stoves are dried. The same material was used in the warehouse pest to match the facade in a closed position. The six-angle roof is shifted to the mountain by a larger party to better integrate with the landscape. High energy conservation standards are justified by the desire to maintain low maintenance costs throughout the year. Refrigeration during summer months is carried out by natural ventilation, and all lighters are equipped with economical lighting lamps.
Related Posts